Like most pocket computers, the HP 95LX owner's manual is larger and heavier than the computer itself.

Also known as

Jaguar

Manufacturer
Hewlett-Packard[1]

Type

Palmtop PC

Release date

April 1991[2]

Introductory price

$550

Discontinued

January 1, 2003

Units shipped

400,000 (estimated production run)

Operating system
Microsoft MS-DOS 3.22
CPU
NEC V20 @ 5.37 MHz

Memory

512 KB (F1000A) or 1 MB (F1010A)[3]
Removable storage

SRAM card (0.5MB - 32MB)

Display

16 x 40 characters LCD screen (4.8 in x 1.8 in)

Graphics

128 x 240 pixels(quarter-CGAresolution) monochrome STN , 2 scales

Sound

PC Speaker - Piezo

Input

Thumb keyboard w/80 keys & dedicated numeric keypad[4][5][6]

Connectivity

RS-232-compatible serial port, infrared port, PCMCIA 1.0 type II (3.3mm or 5mm)

Power

2x AA-size removable batteries, 1xCR2032 coin cell backup, optional AC adapter

Dimensions

Length 8.5cm, Width 15.9cm, Height 2.6cm (3.4 inches x 6.3 inches x 1 inch)[4]

Weight

11 ounces(312g)

Backward
compatibility
Intel 8088

Successor

HP 100LX
The HP 95LX (F1000A, F1010A), also known as project Jaguar, was the first MS-DOS pocket computer orpersonal digital assistant, introduced by Hewlett-Packard in April 1991 in collaboration with Lotus Development Corporation.
The HP 95LX had an NEC V20 CPU (an Intel 8088 clone running at 5.37 MHz) with an Intel Corporation System on a chip (SoC) device. It cannot be considered completely PC-compatible because of its quarter-CGA (MDA)resolution LCD screen.[7] It ran Microsoft's MS-DOS version 3.22 and had Lotus 1-2-3 built in. Other software inread-only memory (ROM) included a calculator, an appointment calendar, a telecommunications program, and a simple text editor. It also included a CR 2032 lithium coin cell for memory backup when the two AA main batteries run out. For mass storage, the HP 95LX had a single PCMCIA slot which could hold a static RAM card (which had its own CR 2025 back-up coin cell). An RS-232-compatible serial port was provided, as well as an infrared port for printing on compatible models of Hewlett Packard printers.[8] In character mode, the display showed 16 lines of 40 characters and had no backlight.
Successor models to the HP 95LX include the HP 100LX, HP Palmtop FX, HP 200LX, HP 1000CX, and HP OmniGo 700LX.
See also
References
External links
Hewlett-Packard 95LX
| | |
| --- | --- |
| Introduced: | April 1991 |
| Price: | US$699.99 |
| Weight: | 11oz / 312g |
| CPU: | NEC V20 (80C88) @ 5.37 MHz |
| RAM: | 512K |
| Display: | 40 x 16 text LCD |
| | 248 x 128 graphics |
| Storage | PCMCIA (RAM) slot |
| Ports: | RS-232 serial |
| OS: | MS-DOS 3.22 in ROM |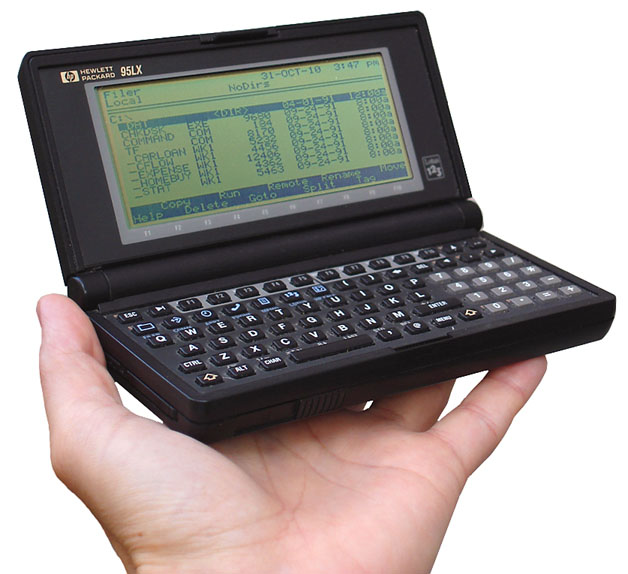 It's never been easier to carry critical information with you, around the world or across the hall. 

In 1991, Hewlett-Packard and Lotus joined forces to bring you the world's leading PC application, Lotus 1-2-3, in a palmtop PC. 

In addition to having Lotus 1-2-3 (a text-based spreadsheet program) built-in, the HP-95LX also includes a calculator, an appointment calendar, a telecommunications program, and a simple text editor. 

The optional Connectivity Pack, which includes a serial cable and a software application, allows the HP95LX to exchange data with a desktop PC. You can create schedules, phone lists and memos on your desktop PC, then transfer them to your HP-95LX for use 'in the field'.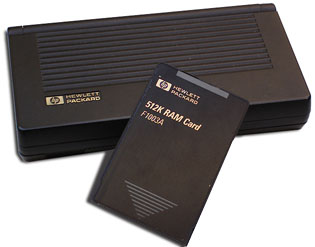 The HP-95LX is a true palmtop - very tiny and light-weight, at 6.5 x 3.5 x 1 inches, weighing only 10 ounces. It was the most popular palmtop of its time, and is almost certainly the smallest MS-DOS computer ever. 

The Atari Portfolio was realeased two years earlier, but it did not really run MS-DOS, it ran DIP-DOS, an MS-DOS clone OS. 

Running MS-DOS 3.3, the Poqet PC was released in 1990, one year prior to the HP-95LX. 

The Zeos Pocket PC was after the HP-95LX, in 1992. It is somewhat larger, and has Microsoft Works built in, instead of Lotus 1-2-3. 


 
 
History of Hewlett-Packard Computers
1972: Hewlett-Packard pioneers the era of personal computing with the first scientific hand-held calculator, the HP-35, which makes the engineer's slide rule obsolete.
1973: Stephen Wozniak joins HP.
1976: Steve Wozniak proposes that HP create a personal computer. He is rejected.
1976: October - Steve Wozniak remains at HP, but is soon convinced that he should leave and join Apple Computer.
1976: HP begins Project Capricorn, to build a computer-like calculator.
1980: January - HP completes work on the Capricorn project, producing the HP-85. With a 32-character wide CRT display, small built-in printer, cassette tape recorder, and keyboard, it sold for US$3250.
1980: February - HP announces that it will switch to Japanese makers of 16K RAM chips. HP had examined chips from Japan and the US, and found that chips from the best American firm had six times the failure rate of the worst Japanese producer.
1982: HP introduces the HP-75C portable computer. Price is US$995.
1983: June - HP introduces the HP-7475A 6-pen plotter, for US$1895.
1983: October - HP unveils the HP 150 microcomputer.
1984: May - HP introduces the HP 110 laptop computer.
1984: HP introduces the LaserJet laser printer, featuring 300dpi resolution, for US$3,600
1987: HP releases the HP PaintJet color inkjet printer
1989: May - HP buys workstation maker Apollo Computer for US$476 million.

---

Source: Chronology of Events in the History of Microcomputers



Hp 200LX 100LX Palmtop Pc Equipo Original 5 Mb 12v Disco Flash





HP AC Adapter F1011A for 95LX/100LX/200LX
- 100-240v, 50/60 Hz