A Concise History of Playing-cards
Playing Cards are believed to have originated in China and then spread to India and Persia. From Persia they are believed to have spread to Egypt during the era of Mamluk control, and from there into Europe through both the Italian and Iberian peninsulas during the second half of the 14th century. Thus, European playing cards appear to have an Islamic derivation. Some of the earliest surviving packs were hand painted works of art which were expensive and affordable only by wealthy patrons such as dukes or emperors.
But you can play card games with any old pack so as demand increased new, cheaper methods of production were discovered so that playing cards became available for everyone...
The history of playing cards in popular art is fascinating and has a long tradition. This section is an online tutorial covering the early history of playing cards. You will learn about the following topics: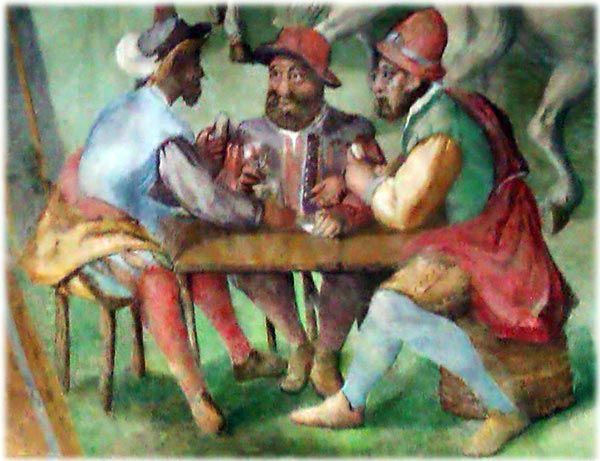 At the end there will be a quiz to consolidate your knowledge.
---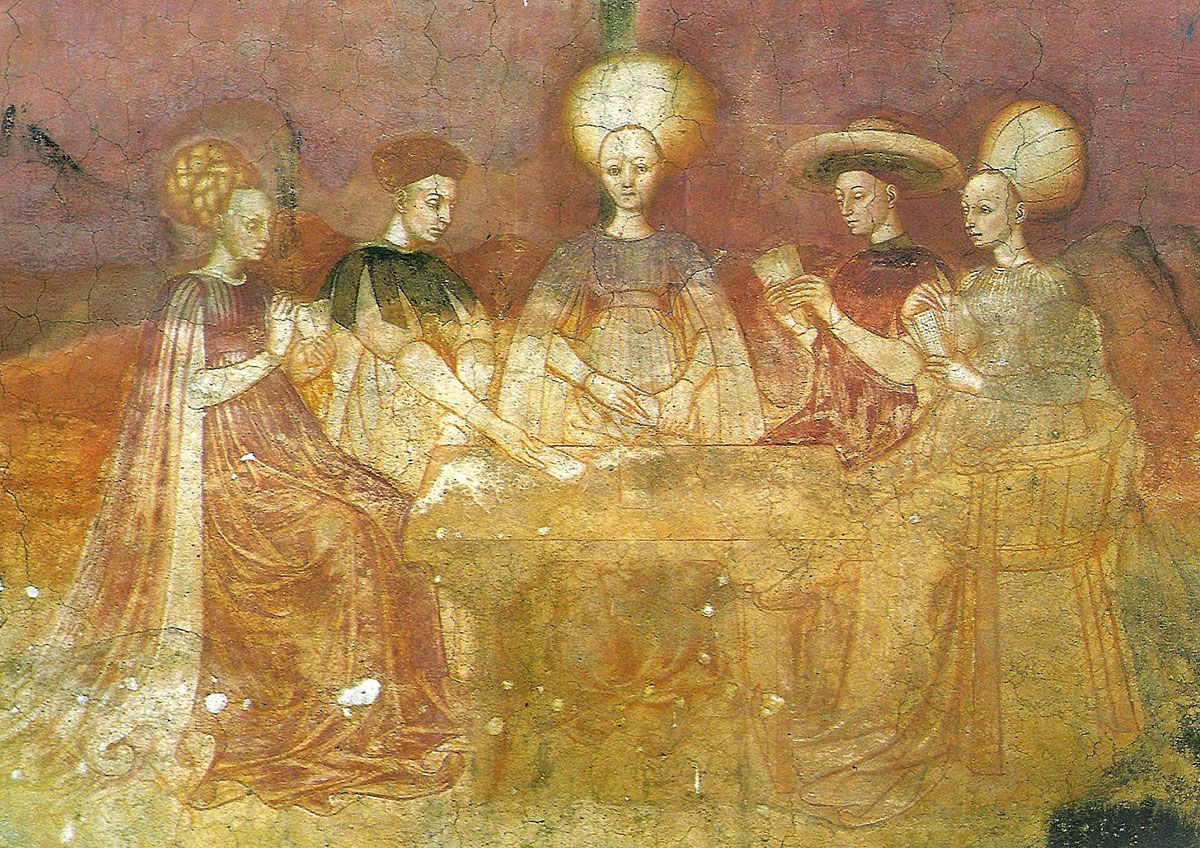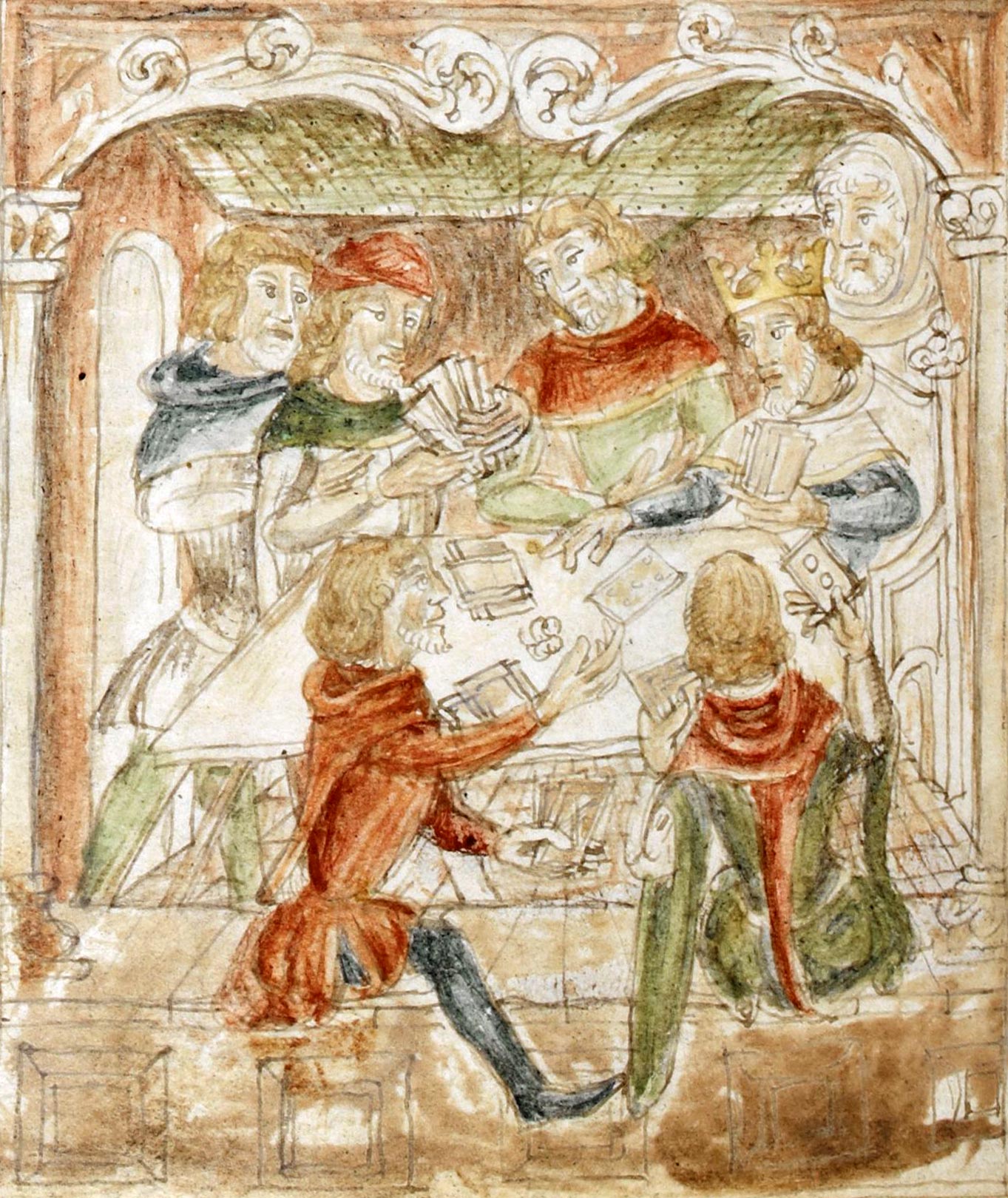 Cardboard consists of a number of thicknesses of paper pasted together, pressed and polished on two surfaces. Ordinary cardboard consists of two sheets of white paper with a sheet of cartridge paper between them, and the thickness of the board is determined by the stoutness of the paper. For stout cards two or more sheets of cartridge paper are interposed. Modern playing-card board is usually laminated with a black adhesive and comes in a range of weights and with matt, glazed or embossed finishes including 'Äėlinen grain'Äô or 'Äėair cushion'Äô finish. The following notes describe the manufacture of cardboard in the nineteenth century.
Consider the manufacture of three-sheet card. The arranging of the paper for this is called mingling. That is, a ream of white demy paper is spread open, and between every two sheets one sheet of cartridge paper is placed; and the pile when complete is called a head, consisting, of course, of a ream and a half of paper.
The next process is pasting. A man stands at a bench with a mahogany slab before him, the head of paper on his left hand and a large tub of paste on his right. Pulling the first sheet from the head upon the mahogany slab with his left hand, the paster with his large brush saturated with thin smooth paste covers it with a layer by two or three skilful movements of the arm and hand. He then pulls down upon this pasted surface a sheet of cartridge paper, the top surface of which is in like manner pasted. He next pulls down upon the pasted cartridge surface two sheets of white paper, and covers the upper surface only with paste. One sheet of cartridge paper is pulled down upon this and pasted; then two sheets of white paper, and so on until the whole head has been pasted. Now it is obvious that by pulling down two sheets of white paper with no paste between them the boundary between two sheets of cardboard is made.
One man will paste 4 heads of paper, or 7 gross of cardboards in one day. This will consume about 14 lbs or 16 lbs of flour, reckoning 1 lb of flour equal to one gallon of paste. In some cases it helps to dampen the paper beforehand.
When the head has been pasted, it is put into an upright press, and condensed by the action of a well-oiled iron screw and a long lever worked by two men. The water of the paste oozes out at the edges of the head, and falling into a channel in the lower bed of the press, escapes through a hole into a bucket, which becomes entirely filled with clear water from the produce of one man's work in the course of one day.
The next process is drying. Every evening before the men leave off work, each man takes out of the press the heads which he has pasted during the day and hangs the cardboard pieces on lines to dry. This involves piercing the corner of each sheet and passing a 1¬Ĺ" length of thin copper wire through the hole which then serves to hook the piece to the drying lines. The room is artificially heated, and in the course of twenty-four hours, that is, on the next evening when the lines are wanted for the next day's work, the boards are sufficiently dry. Then they are separately brushed with a hair brush to remove any dust &c.
The boards are now rough on the surface, warped and uneven. They are made smooth and even by passing them between a couple of powerful iron rollers in contact with thin sheets of smooth copper plate. The rough uneven cardboard is converted into a perfectly even board with a beautifully polished glazed surface. Several boys are employed taking out sheets of cardboard and arranging them into heaps.
The cards are now ready to be formed into playing cards... as a final cautionary remark, researchers have found that toxic chemicals from recycled newspapers had contaminated food sold in many cardboard cartons. The chemicals, known as mineral oils, come from printing inks!