http://www.oldcalculatormuseum.com/mits7440.html

http://www.decodesystems.com/casiocalcs.html

http://www.decodesystems.com/pe-71nov.html

http://www.rskey.org/CMS/index.php/the-library/11

http://www.epocalc.net/php/liens_epocalc_e.php?nom=Calculators



I collect early nixie tube, electro-flourescent, LED and scientific calculators from nearly any manufacturer. I'm particularly interested in any calculator or computer made by Hewlett-Packard before 1985.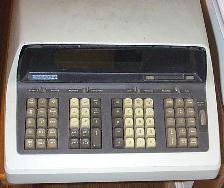 Some of those HP calculators were made well before 1985. For instance, HP's first programmable calculator, the HP-9100A (pictured at right), was introduced in 1968. I would very much like to find 9100A and 9100B calculators, peripherals, manuals and other documentation. You can read more about the 9100 models here.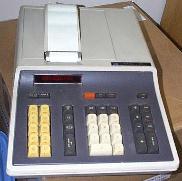 To the left is an HP-46, the desktop version of the HP-45, HP's second handheld scientific calculator (the HP-35 was the first handheld). The LED display on the HP-46 was an optional feature.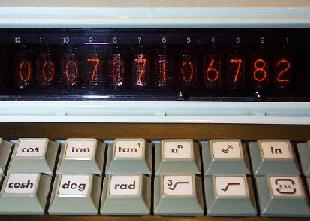 The photo to the left is from a Remington 1259S, which is internally identical to the Casio FX-1. The display is made up of nixie tubes, where each digit is represented by a shaped wire inside a sealed glass tube. I have more information about nixie tubes here.
Even though I'm interested in almost any old calculator, there are some models that I'm specifically looking for. These include:
APF Mark 55

 

Busicom 141PF

Casio AL1000 (AL-1000)
Casio 121-A
Casio 121-K
Casio AS-C
Casio AS-L
Casio FX-1
Casio FX-3
Casio fx 201P
Casio fx 202P
Casio PRO fx-1

 

Commodore 207CB (electro-mechanical)
Commodore M55

 

General Electric CE93

 

Hewlett-Packard HP-10
Hewlett-Packard HP-19C
Hewlett-Packard HP-55
Hewlett-Packard HP-70
Hewlett-Packard HP-81
Hewlett-Packard HP-91
Hewlett-Packard HP-9805
Melcor SC-535

 

Omrom 12SR (SR-12)

 

Tektronix 21
Tektronix 31

Texas Instruments SR-22
Texas Instruments SR-60
Texas Instruments TI-45
Texas Instruments TI-150
Texas Instruments TI-450
I'm also looking for maintenance and repair information, especially Service Manuals, for the following machines:
 

I'd also like to find some specific accessories for the HP-71B handheld calculator/computer:
82441A, FORTH/Assembler
82478A, FORTH/Assembler/Debugger
82478-60001, HP-71 Debugger
82490A, HP-41/HP-71 Translator
Although I'm mostly interested in electronic models, I would also like to find a Curta type 1 or type 2 mechanical calculator.
_________________________________________________________________________________________________________


 
Bookmarks in database (27 March 2016) : 

2893

Text search





 
Calculators

General

Data bases

Casio

General

Models

Collections

por

Mechanical

HP

General

Voyager

Spice

HP-41

HP-48

HP-67

Others

Documentation

Models

Models (epocalc)

Technology

TI