Acer v223w 715G2930 LCD Replacement Capacitors, Boards not Included.
 

 
Included Capacitors
Power Supply Board Capacitors
This capacitor replacement kit consists of 16 aluminum radial electrolytic capacitors needed to replace those on your monitor's power supply board and video/main board (8 + 8). You are not purchasing the power supply board or the video/main board, only the capacitors needed to replace those on your monitor's boards.
The capacitors used in this kit are Panasonic Series FR, FM and FC capacitors, all of these capacitors are the very highest quality capacitors (refer to the attached photo for information as to how to identify the manufacturer and series of the capacitors included in this kit).
Other online merchants may use inferior quality capacitors, always inquire as to what you are getting BEFORE you buy. Insist they tell you what brand  of capacitor(s) you are getting.
Always verify that the board in your monitor matches exactly the board pictured in this listing or you risk ordering the incorrect kit. There's more than one version of this kit.  The other version can be found HERE.
Note: This kit

does not include

the large 400v to 450v capacitor.  Please refer to the

FAQ

for further information!  This capacitor can be ordered separately if needed.  Normally it does not need to be replaced.
Repair Kit, Viewsonic VX922 LCD Monitor, Capacitor
 
µ

F

V

Temp

.

Type

#

Included Capacitors

470
25

105°C

Radial
2
330
35

105°C

Radial
1
330
25

105°C

Radial
1
10
50

105°C

Radial
1
For circuit boards with the following: P/N: 38S006431
We only use high quality capacitors manufactured by Panasonic, Nichicon and Illinois Capacitor.  We do not use CapXon capacitors.
Check out our brand new installation tutorial at: www.lcdalternatives.com/

Check out how easy it is to repair your LCD Monitor at:

www.youtube.com/watch



---
If you are here you have already figured out one of the main causes of LCD Monitor Failure.  By replacing the capacitors on the power supply you will give you Viewsonic  monitor a new lease on life!
Repairing your monitor is alot easier than you think.  You will be amazed at how easy it really is and how much money you save by doing it yourself.
Why spend hours of your time searching for the right capacitors?  Let us find them, package them, and send them to you!



If you don't see a repair kit for your brand/model of LCD monitor let us know at

info@lcdalternatives.com

.  We will

gladly

put one together and put it in our store within 24 hours!

If you send a request in for a monitor that we don't have listed and you

include the number of capacitors, their voltage, and their

µF

, we will put together a repiar kit and IÂ will credit your PayPal account with 50% off the total, if you purchase the kit! Â  We are trying to expand the number of repair kits and you are our best source of information.

You should always verify that the capacitors in this auction match the capacitors in your monitor!
Repair Kit Caps LCD Monitor Acer AL2216W VX2235WM Power Supply DAC-19M009BF Rev-02A

Repair kit!!!
 




| | | | |
| --- | --- | --- | --- |
| µF | Temperature | Type | Qty |
| 2200 | 105°C | Radial | 1 |
| 1000 | 105°C | Radial | 3 |
| 330 | 105°C | Radial | 1 |
| 220 | 105°C | Radial | 3 |
| 22 | 105°C | Radial | 1 |


QTY: 9pcs Capacitors
8

Inches of solder


8

Inches of copper de-solder wick


2pcs

Isopropyl alcohol cleaning pads


2pcs

Cotton swabs
 
 
 
 
______________________________________________________________________________________________________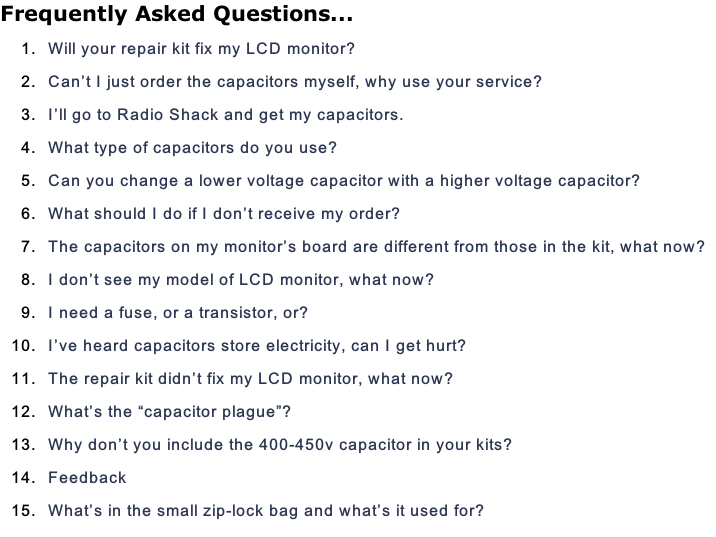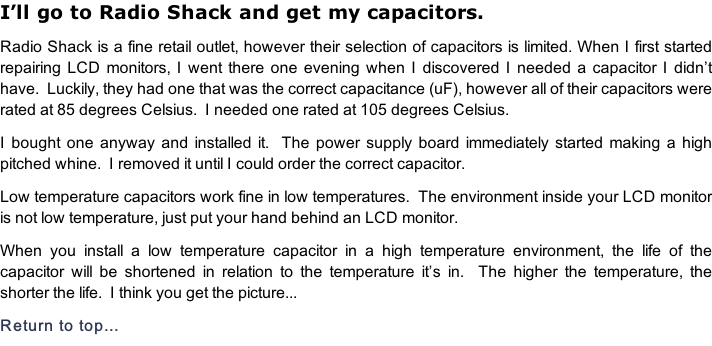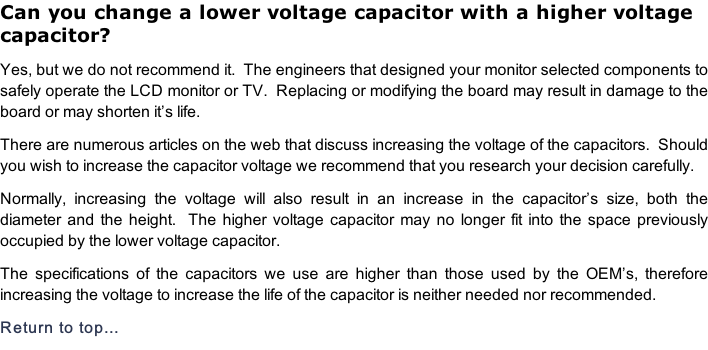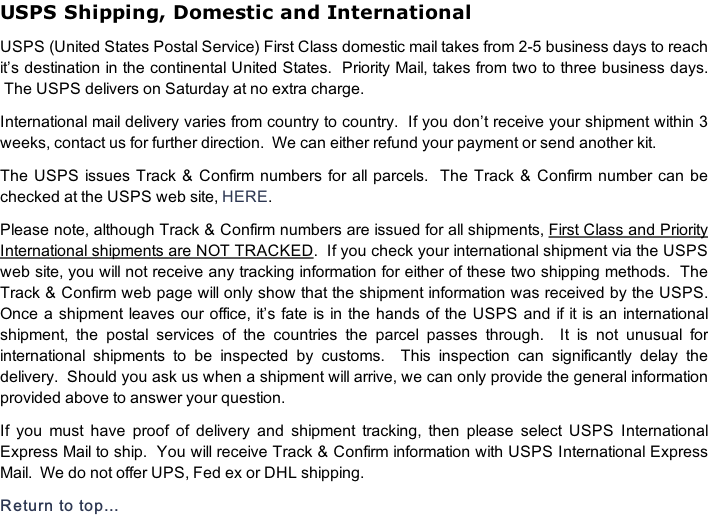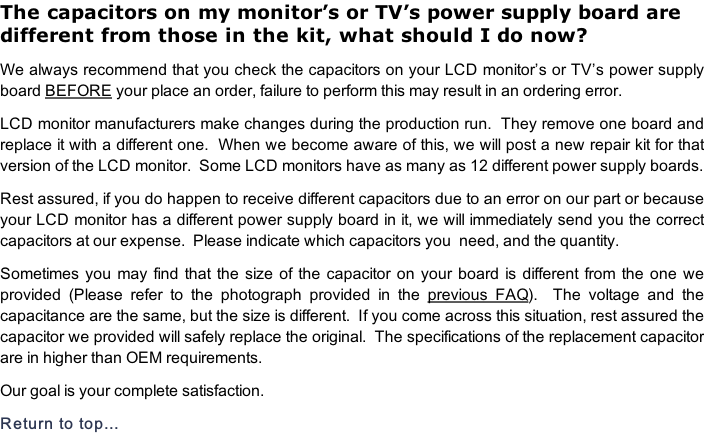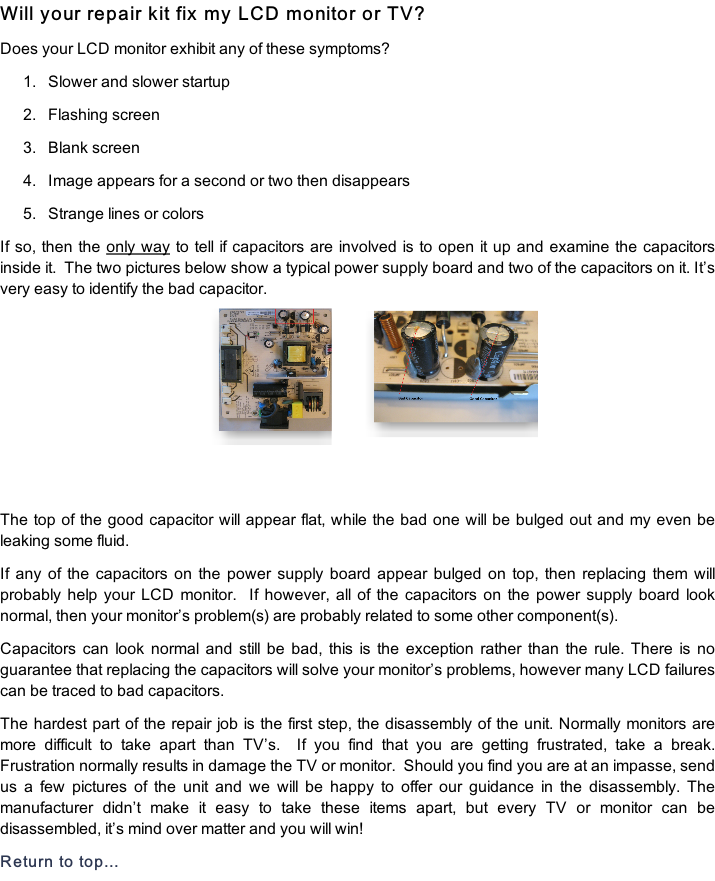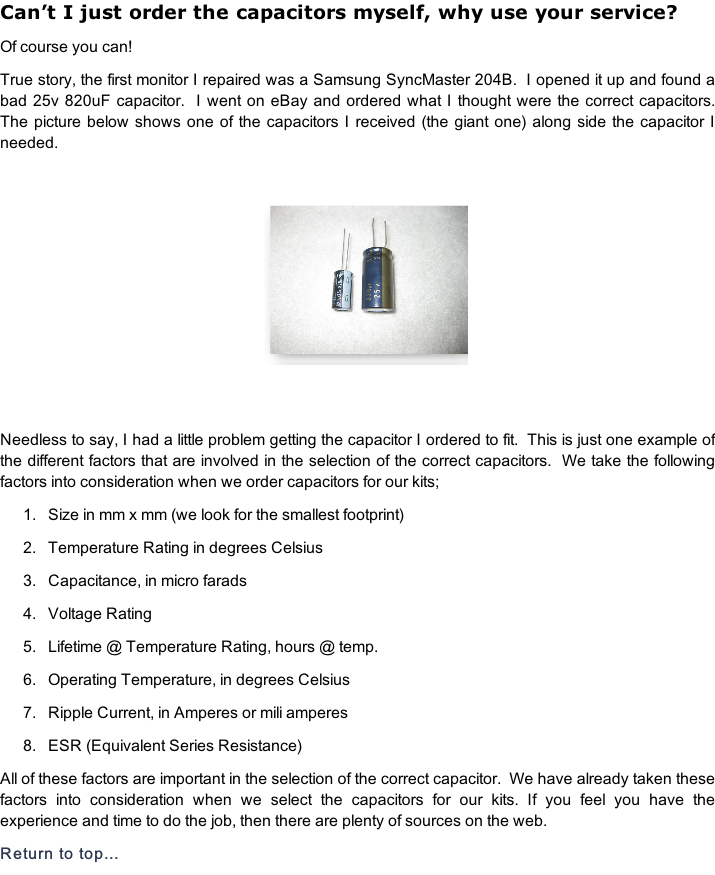 What's in the small zip-lock bag and what are its contents used for?
We've added the following items to all of our repair kits to make the repair of your monitor or TV even easier!
6 inches of Sn60/Pb40 0.032 inch diameter solder
8 inches of 0.1 inch (2.5mm) "Blue Type" copper de-solder wick
Isopropyl alcohol (70%) cleaning pad and two wooden/cotton swabs
Click HERE for a short instructional video on the use of the these items
We are certain that  you will find these items very useful in the repair of your monitor or TV!